Early results from the US presidential election between incumbent Republican Donald Trump and his Democratic challenger Joe Biden show a tight race in a number of battleground states.
Donald Trump leads Joe Biden in the potentially pivotal race of Florida with almost all votes counted.
But other key states of Georgia, Pennsylvania, Wisconsin, Michigan, Arizona, Ohio, Texas, and North Carolina are toss-ups.
The vote caps a long and bitter race.
More than 100 million people cast their ballots in early voting before election day on Tuesday – setting US on course for its highest turnout in a century.
Control of Congress is also at stake. As well as the White House, Republicans are vying to hang on to a Senate majority.
The House of Representatives is expected to stay in Democratic hands.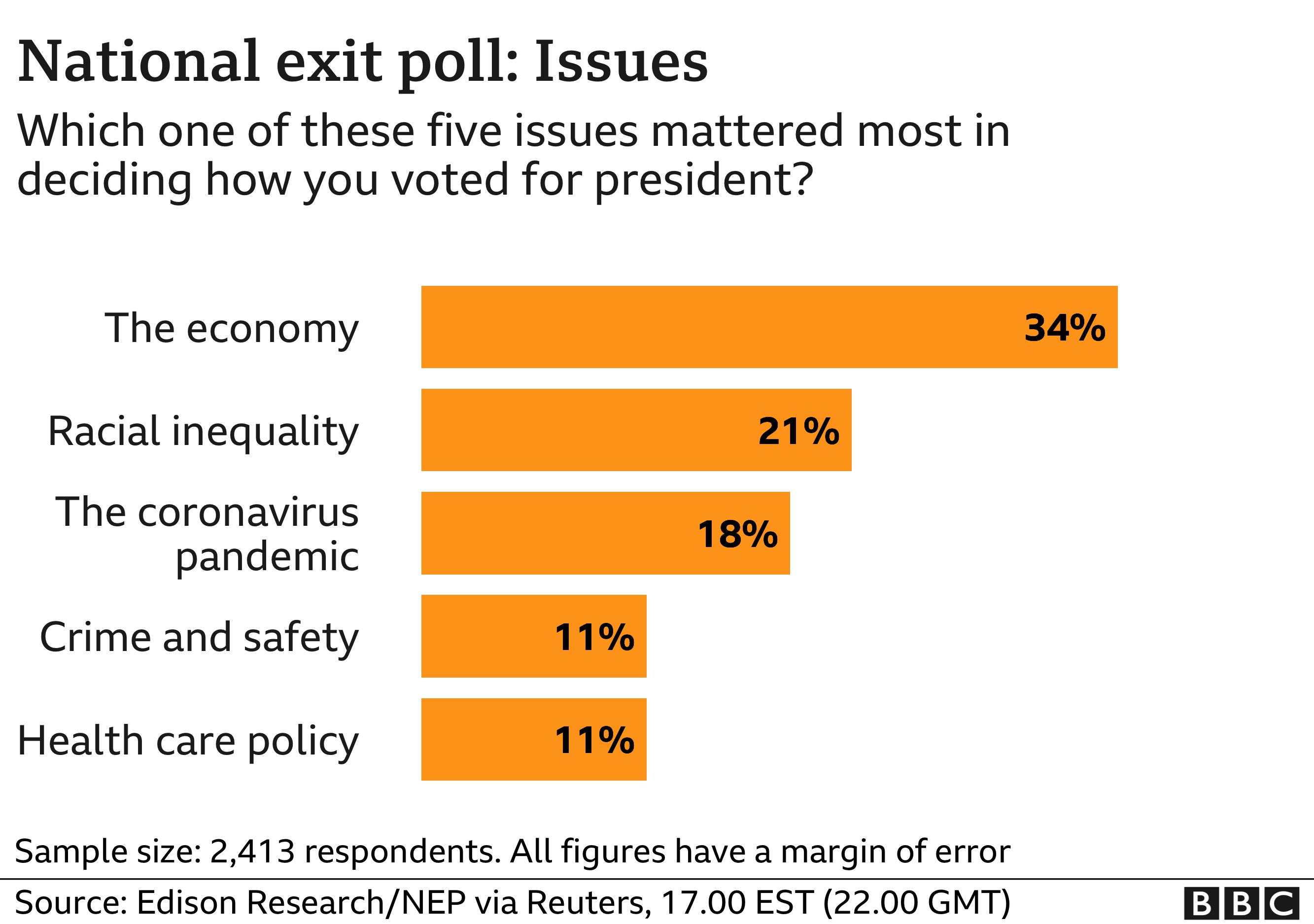 What are the results so far?
The battlegrounds in the Rust Belt of Pennsylvania, Michigan, Wisconsin, and Ohio look as though they could go either way in the White House race.
The sunbelt states of Arizona and Texas, once reliably Republican, are also toss-ups. A Biden win in Texas would be a political earthquake.
Nail-biting counts are also under way in two more critical swing states on the East Coast, Georgia and North Carolina.
Both Florida and Pennsylvania are considered must-wins for Mr Trump if he is to be re-elected to a second term in office.
No surprises have emerged yet in the other states.
The BBC projects Mr Trump will hold on to Alabama, Indiana, North Dakota, South Dakota, Kentucky, Tennessee, Oklahoma, Arkansas and West Virginia, all as expected.
The BBC also projects Mr Biden will keep his home state of Delaware, along with New York, Colorado, Vermont, Maryland, Massachusetts, New Jersey and Washington DC in his column.
CBS News, the BBC's US partner, projects South Carolina, Nebraska, Kansas, Louisiana, and Wyoming are leaning Mr Trump's way.
CBS also projects Minnesota, New Mexico, Maine, Connecticut, Illinois, Rhode Island and New Hampshire are trending towards Mr Biden.
Mr Trump narrowly lost Minnesota in 2016 and his campaign is hoping to pick it up this time.
Voting ends on the US West Coast at 23:00 EST (04:00 GMT on Wednesday).
Exit poll data suggest Mr Biden had the edge with women voters by 57% to 42%, with black voters (87% to 11%), with under-29 year olds (64% to 33%) and among voters with or without a college degree.
Mr Trump appeared to hold the advantage with over 65 year olds (51% to 48%).
National opinion polls gave a firm lead to Mr Biden, but pointed to a closer race in the handful of states that are likely to decide the outcome.
Mr Trump, who is watching the returns from the White House, is expected to address the nation later on Tuesday evening.
Mr Biden was at his home with family in Wilmington, Delaware, with few aides around, according to CBS.
Projections are based on a mixture of exit poll data and, in most cases, actual votes counted – and are only made where there is a high degree of certainty.
In the US election, voters decide state-level contests rather than an overall, single, national one.
Polls in the eastern half of the US are closing fast now. While Florida appears to be trending toward Donald Trump – on the back of better-than-expected performance among Hispanics in South Florida – attention will shift towards other battleground states.
Joe Biden has taken an early lead in Ohio, although the counties that have been reporting are Democratic ones. However, if he can do better than Hillary Clinton, who lost the state, it could give clues as to how he'll perform in the nearby states that were much closer – Pennsylvania, Michigan and Wisconsin, in particular.
Georgia continues to look like a tossup, as does North Carolina. Both are pretty much must-wins for Trump. And Texas looms on the horizon. While Florida is the big electoral prize that has been a fixation for Democrats for decades, if Texas moves to the left, it could herald an even more earth-shattering electoral realignment.
Appearing earlier on election day in Delaware, Mr Biden said he was "hopeful" and highlighted the "overwhelming turnout particularly of young people, of women".
A senior Biden adviser told CBS the Biden team "feel good". Florida was in the balance, but Democratic numbers were strong in a swathe of swing states, including Wisconsin, Pennsylvania, North Carolina, Georgia and Arizona, said the aide.
Speaking in Virginia earlier, Mr Trump said he expected "a great night".